Looking for the top 5 SEO strategies to boost your rankings with the search engines? Want to get your articles on page 1 of Google? Then these SEO strategies will get you there fast. I will explain what you need to do to SEO your articles to be listed on page one of the major search engines, namely Google, Bing, and Yahoo.
First and foremost your content is critical. Without good quality content, all the SEO strategies in the world will not help you. You must produce good quality, keyword rich content or the search engines will not rank your website very high, even if you implement these SEO strategies. I am assuming that you already know what SEO is but if you want a more definitive explanation of what SEO is, just follow this link.
The top 5 SEO strategies to boost your ranking in 2018 are;
Google Search Console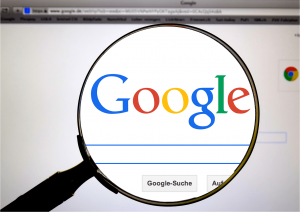 Google Search Console, formerly know as Google Webmaster Tools is a powerhouse of information about how your website is doing on the web. You can check who is clicking what on your website and how it is doing with regard to position and ranking.
Inside there is a feature called Fetch As Google. When you have published a new article on your site you can go here and ask Google to take a look at your post and to crawl and index it. This will then speed up the process of Google ranking your post in the SERPs (Search Engine Results Page).
It is like tapping Google on the shoulder and saying "Hey, Google, take a look at my new post now please" if you will. If you don't do this then Google may take a day or even a week before the bot will crawl your website and find your new article which means that during that time your article will not show up in the SERPs.
This is a very powerful SEO strategy that you can implement to help speed up your ranking in the Google.
Bing Webmaster Tools
Well, there is not more to say here except that Bing Webmaster Tools is exactly the same as Google Search Console and performs the same functions and has the same features. The interface is different of course but they are pretty the same in functionality. You can request Bing to crawl your new post with the Fetch As Bingbot feature and speed up your ranking within the Bing SERPs.
Note that Yahoo owns Bing so you get to have your site crawled for both the Bing and the Yahoo Search Engines which a double bonus if you will. So use these tools to boost your rankings for your websites.
List Based Content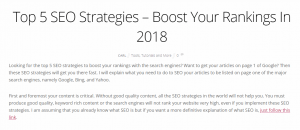 List based content is a great way to get ranked in the search engines. This is content just like this article where I have "listed" the Top 5 SEO strategies to boost your ranking. Content that lists items, products or services are favored by the people who are generally looking for the Top 5 of … or Top 10 of… or Best 5 … for example.
Articles with titles like this are a favorite of people searching for the best of something and by meeting the needs of the people and solving their problem by helping them get what they want goes a long way in getting better ranking with the search engines. Search engines today want your content to be informative and helpful to people, not just a site that is trying to sell you everything under the sun.
I am not saying that you should write all of your articles as list based content but have a few of them on your website and they will rank for you.
Internal Links
Internal links are very powerful and every post should have one. Google is particularly fond of internal links as it shows that your site content is relevant to your website and it just some spammy site trying to sell to people without actually helping them.
These are links that you create in a post that will link to another page on your website that is relevant to the content you are writing. These links will raise your ranking a lot in the search engines and should not be ignored.
Leveraging Comments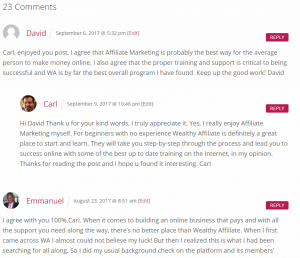 Comments are another important feature to have on your website. By receiving and replying to comments regularly, shows the search engines that your site is active and alive and well on the Internet.
At the same time Comments are like having extra content in your post and because you are getting new comments all the time this will lead the search engines to see it as content that is being updated regularly which helps boost your rankings even more.
So always reply to your comments as this is an indication to the search engines that there is someone actively working the website and this looks really good to them and they will boost your rankings accordingly.
Some additional things …
There are a couple of things that you can do as well that I believe help boost your rankings and that is to post your articles on Google+ as well. Now I am not sure if Google's algorithm includes Google+ but it is still Google and I just feel that it cannot hurt so I do it for all of my posts.
A word on Keywords. Keywords are the words people use to search on Google and Bing to find particular topics and subjects. They are absolutely critical for ranking in the SERPs. So make sure that you are diligent with your keyword research before writing an article.
Final Thoughts
Well, these are the strategies I use to get ranked in the SERPs and to get my website out there on the Internet so that people can find me and read my articles.
This top 5 SEO strategies, if done correctly, will help boost your rankings to new heights and you will soon see your own website on page one of the search engines.
For more information on SEO see my SEO and Keyword Tool article.
Whether you are a beginner or an experienced affiliate market and are looking for a place to learn from and increase your knowledge then take a look at my #1 recommended e-learning platform. They have everything you need and it is free to join.
If you have any questions or just want to leave a comment, please feel free to do so below and I will be happy to respond to you. Thanks.