Benchmark Email is a service that provides Email Marketing Tools, like email automation, email campaigns, creating newsletters and offers other services like polls, surveys and subscriber forms amongst a whole bunch of other features. It is a very comprehensive platform that will provide you with just about everything you will need to run and market your business email.
Name: Benchmark Email
Website: www.benchmarkemail.com
Support: 4.6 out of 5.0
Ease of Use: 4.1 out of 5.0
Price: Starter (free), Pricing Table
Supplementalincomeonline.com Rating: 4.5 out of 5.0
So What Is Benchmark Email?
Benchmark email service is a modern email service that provides you with the ability to create some awesome email marketing campaigns, newsletters, and subscriber forms. The easy to use and intuitive interface makes it a breeze to create some really professional looking email campaigns and newsletters and is really easy to navigate.
They provide a full set of services from creating your subscriber sign up form, through your email campaign to real-time reporting, data and metrics, autoresponder, A/B Testing, and other features so that you can tweak your email marketing strategies to really target your business market.
Who Is It For?
Any online entrepreneur that is looking for a way to contact and keep their customers informed about their website and business can use Benchmark Email marketing system. If you are looking to grow your business and offer a subscriber feature and start creating an email list, then Benchmark will work for you. You can send out update notifications or coupons, notices of upcoming events, and many other things to promote and grow your business.
It is a really powerful marketing tool that can grow your business exponentially on into the future. You really can benefit from a service like this and the best thing is it is free.
What Does It Offer
To start, the membership and service are free! You cannot beat that. For your free subscription, you can have up to 2000 email contacts and send 14000 emails a month. Once you have exceeded those limits then there is a monthly fee for the service. To see pricing on the monthly service fee just click this link to their pricing table.
… some features
There are many ways to add contacts to Benchmark like one at a time (copy & paste), importing from an address book or downloading a file.
You can create awesome looking subscriber sign up forms, along with, a bunch of templates for emails and newsletters. Creating professional looking campaigns is really easy with the drag & drop and WYSIWYG interface and you can promote sales, offer coupons or just keep your subscribers informed of the latest updates to your website.
The autoresponder feature and automatic marketing feature is really great and you can schedule your emails or newsletter deliveries on a schedule or based off of certain triggers, like customers opening emails or clicking on emails. You can also set it up to send an email after someone subscribes, then send a follow up a week later followed by say a coupon a week after that, for example.

The reporting system tracks all your information about usage, who is opening emails and who is not and many more features to make your email marketing campaign successful. Another nice feature is that it will integrate with Google Analytics.
There are tools for creating emails, auto-responses, even surveys and polls, A/B testing and it integrates with over 300+ apps. Even if you are a complete newbie to email marketing, you will be able to follow the prompts and create great looking email marketing campaigns with the easy to use templates that are offered.
They provide a full interfaced API and RSS feed service too, that really makes things easy to set up and run your email marketing campaigns with. And it plugs into WordPress with no problems.
Their support is really good too. You can contact them via email, phone, live chat or access their extensive FAQ and Knowledge Database or watch their online video tutorials.
Here is a list of some other features and services offered:
Survey Management
Bounce Tracking
CAN SPAM Compliance
Click-Through Tracking
Drip Campaigns
Image Library

Photo Editor
Mailing Frequency Limits
Mailing List Management
Behavior Driven Rules
Spam Check
Template Management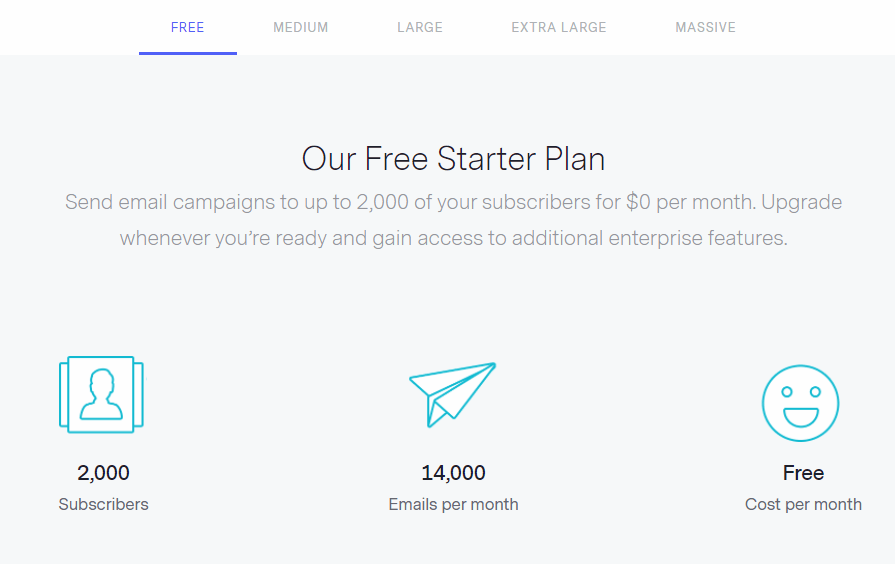 So, as you can see they are a pretty comprehensive platform that has a lot to offer you. I am sure that you will find all the tools and services that you will need for your email marketing needs.
Pros
Cons

A free forever plan, now that is a good deal
Social sharing with Facebook, Twitter, Pinterest and Linkedin
Email campaigns stand out because of the interactive video and links you can put in your emails and newsletters
The Drag & Drop feature makes designing emails and forms easy and very intuitive to do
10mb of image hosting and 50mb for high-volume accounts
A/B Testing with preview screen
API Interface and RSS feed
50+ app integrations like Google Analytics, PayPal, Shopify, Magneto and many more
Mobile Apps for Android and iPhone
Great support

Limited phone support as they do not list their hours but they do have live chat 24/7

For a private IP, there is an extra monthly cost regardless of the subscription plan that you have

The built-in import features for third-party address books are very limited

They do not allow for attachments in your marketing campaigns but they do give you 10mb of space to store and link them to their server

Resizing images is not really good. You can resize your images prior to uploading them to Benchmark as a solution.
Final Thoughts
That concludes this 2018 Benchmark Email Review and I hope you found it informative and will be able to make a better decision about them. They are a really great service to use as a beginner, especially as they are free and you can start to grow your own email lists.
If you are new to Affiliate Marketing and the online world or are looking to increase your knowledge base, then take a look at my #1 recommended e-learning platform.
If you have any questions or comments please leave them below and I will be happy to respond to you. Have a great day.