Have you been looking for online courses to help boost your knowledge level? Maybe you are looking to get a promotion and would like to have some extra credentials behind you? Or you are looking to improve your resume for a better job offer. Maybe you want to start an online business and want to learn how to do web design for example.
This Shaw Academy review is based on my own personal experience with them and research of what I was able to find out about them. It will explain what they offer and if they can benefit you in your search for these answers. I will provide you with the information you will need to see if Shaw Academy will work for you or not. Do you think they are worth it? Let's find out.
Name: Shaw Academy


Founders: James Egan and Adrian Murphy in 2013
Website: http://www.shawacademy.com
Training: 3.5 out of 5.0
Support: 3.8 out of 5.0
Price: Free 30 day trial, then $49 per month
Supplementalincomeonline.com Rating: 3.6 out of 5.0
What Is It About?
Shaw Academy an Irish Registered Company that offers online courses in various courses like Photography, Finance, Technology and others. These courses are broken down into many smaller categories for which you can get a diploma that is internationally recognized and accredited by the CPD Certification Service. Their Professional Higher Diploma would be something equivalent to an Associates Degree.
You take classes generally twice a week for the duration of the course which is 4 months, well for the course that I took. Also, you have to be a Premium Member to get a diploma.
Who Is It For?
It is for anyone who is looking to supplement their education and apply it to their life. It requires that you have no knowledge of the subject as they will start you at the beginning and teach you everything that you will need to know.
Anyone who is looking to enhance or expand their knowledge base for a low cost can do these courses. You could be looking to enhance your resume, change careers, start an online business, want a promotion, just expand your knowledge, Shaw Academy could benefit you. And, it is not very time-consuming and can be done part-time, on the side, just a few hours a week is all that is needed.
What Do They Offer?
Shaw Academy offers online courses in many areas. The classes are generally about 1 hour long and you do two of them a week at a set time of their choosing. So you have to make yourself available to them to take the courses.
I did the Cryptocurrency course for 1 month and completed the first module. They taught the fundamentals of what Cryptocurrency is and how to analyze the markets and how to trade on them. They claimed that the classes are live so you could ask the instructor questions and interact with your fellow classmates in a chatroom while watching the presentation.
The lessons themselves were ok but hard to follow at times and the information comes at you pretty fast. It is a good thing that you can review the class again 24 hours after they had aired it. I would not rate the material or the style of the class delivery as I have experienced in college though.
The video quality was fine and you could see everything clearly but the presentations felt very rushed and the slides that the instructor used to explain topic areas were not posted long enough for you to read all the information on them. So that was annoying too. Like I said it was a good thing that you can review the course again the next day and use the pause button a lot.
If you have questions you can either email them or schedule a phone call and talk to an instructor. So that was a nice feature.
They offer a "Tool Kit" that goes along with each class but they cost money so I did not purchase any and could not tell you what they contain. There are also weekly assignments with a multiple choice quiz each week and then a final exam quiz at the end of the course to complete.
What Does It Cost?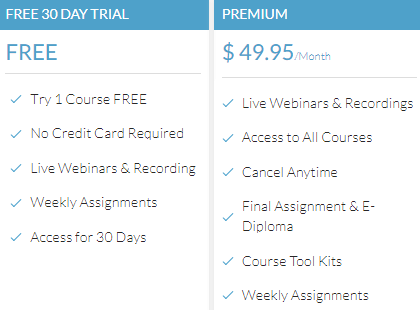 As far as courses go they are not that expensive. There are plenty of other learning platforms that are comparable to Shaw Academy but cost a lot more.
Shaw Academy offers a 30-day free trial and you get to choose one course. After that, if you think that it is worth it to you, then it costs $49 per month and that gives you access to all the courses, videos, and training materials.
There are also weekly assignments that you can do with a multiple choice question quiz at the end of the week, based on the course materials. As a free member, you cannot get a diploma as that is reserved for Premium Members only.

Pros And Cons 
Pros
Cons

Instruction was ok and fairly comprehensive
Good support
Low cost for the training
Multiple courses to choose from
Accredited e-Diploma
Good infrastructure to communicate with the instructors
Very simple UI (user interface)

Only 10 courses offered
The scheduled class time can be a little inconvenient for some
Only Premium Members can get a diploma
The instructor's accent was a little difficult to understand (for me)
Has had some complaints about its practices
Free Trial still requires credit card
Final Thoughts
This Shaw Academy review was based on my experience with them. There are plenty of testimonials out there that really praise them and then there are those that have had complaints about them too. There have been complaints about being overcharged or canceling and still being charged for another month anyway. So be aware and do some research yourself on the testimonials.
Are they a scam? No, not in my experience or opinion. They offer pretty much everything they advertise and their support is pretty good and responsive. I believe that my course was prerecorded though as nobody in my class said anything besides hello, in the beginning, then nothing after that till the end of the class, yet the instructor was answering people's questions during the lesson that were not showing up in the chatroom, which was live. In another class, I saw some people asking questions but they never got answered or acknowledged. I could be wrong but that was my experience with them.
If you are serious about changing your life for the better and want to learn on how to start your very own online business in Affiliate Marketing, then check out my #1 recommended e-learning platform that will do just that. Plus it is free to try out, no credit card required, really!
If you have any questions or have some personal experience and would like to share it here, I would love to hear from you. Please leave any comments below and I will be happy to respond to you.