So you are looking for information about eCommerce and how to make money online? I have some additional information on making money online at the end of this article for you that I know you will find interesting. For now, let's focus on what is Ecom Profit Sniper and whether or not you can make money with it.
It is a course that will teach you a specific type of online business that you can run from the comfort of your own home with a small start-up investment on your part. No, sorry, it is not free.
Name: Ecom Profit Sniper

Owner: Tom Parker
Website: http://www.ecomprofitsniper.com/
Training: 2.8 out of 5.0
Support: 3.4 out of 5.0
Price: $37
Supplementalincomeonline.com Rating: 2.9 out of 5.0
What Is It About?
Ecom Profit Sniper is a course that will guide you through the process of setting up a Shopify website and sell other companies products by drop shipping. It will show you some techniques for promoting your website and how to get traffic from Facebook.
It will give you an introduction into e-commerce at the most but I thought their material was not very in depth and that they left out other information that I think should have been included. But I cannot complain about the price for what you do get in the course. So for a beginner, you could get some benefit from it.
So if you are looking for great detail with lots of examples then this course is not for you and it only shows you one method of making money with e-commerce online, which is drop shipping. There are many other methods that are just as good and some better depending on what you are looking to do in the online world.
Who Is It For?
Anyone who is looking to start an online store and sell products could benefit from this course. Even though it is not very comprehensive with regards to e-commerce or affiliate marketing per se, what it does cover, it does so pretty well.
If you are looking to change your job, looking for some side or supplemental income, have some free time and want to earn an income from an online business then this program could benefit you.
It requires no experience and can be done by anybody with a computer and an Internet connection.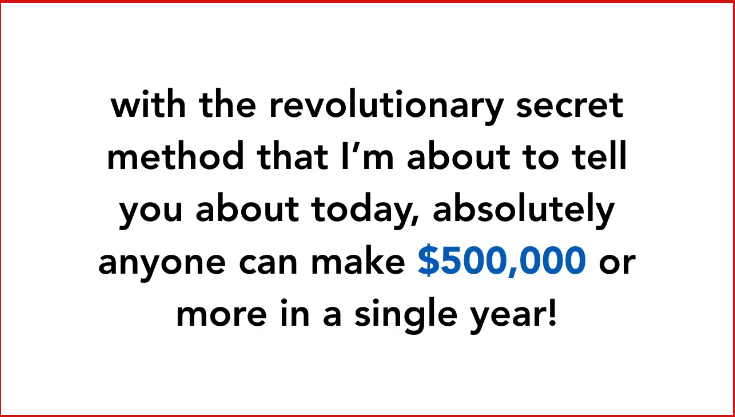 What Do They Offer?
By looking at the sales page you will see that they claim that you can make over $40 000 in one month or as much as $2000 a day. The numbers seemed pretty high to me at first as in my years of online marketing experience, they seemed to be a little unrealistic for start-up numbers. An established website that has been around for awhile, sure, you can definitely make that kind of money and more. But after looking into it I realized that the numbers they are showing are pure sales and not actual profit. So the profit would be around 20% – 30% less, of course, all your expenses, like ads, Shopify costs, app costs etc.
The course they offer is pretty straightforward. They will guide you set-by-step through the setup process of creating a Shopify account and website and you will choose what products you want to sell on your website. Then they will show how to drive traffic to your site so that you get sales and earn some revenue.
They also will show you how to market your website through social media like Facebook and drive more traffic to your site. Their system will select the most lucrative products to place on your website to sell.
They claim that it only takes 20 minutes a day of work to make $2000 but I have not had that kind of success yet. There are so many factors that will influence whether you will be successful or not with the program from what products you choose, to your work habits and ethics to what the current market is doing, targeting the right audience, and so on.
If you read their disclaimer it states that they do not guarantee that you will make any money with their system but they will provide you with the knowledge to achieve that kind of success.
The course gives overviews of essential apps and tools that are needed and will instruct you in how to import your products into Shopify.
The training itself consists of 4 parts:
Part 1 – Introduction:
Lesson 1: Shopify Setup
Lesson 2: Image Hunting
Lesson 3: Settings Note Slides
Lesson 4: Shopify Settings in Action
Lesson 5: Theme Notes Slides
Lesson 6: Theme Settings in Action
Part 2 – Categories & Products:
Lesson 1: Category Selection Slide
Lesson 2: Product Finding
Part 3 – Adding Collections & Products:
Lesson 1: Adding Oberlo Extension
Lesson 2: AliPay and Oberlo
Lesson 3: Collection Creation
Lesson 4: Adding Products
Part 4 – Facebook:
Lesson 1: Facebook Page
Lesson 2: Facebook Post
Lesson 3: Facebook Pixel
What Does It Cost?
The course only costs $37, a one-time payment, so the investment is pretty small. You can pay by credit card or by PayPal which is helpful. Some have said that if you close out of the checkout window you get a $10 discount but I did not see that. What I did find is that some Affiliates offer the course at $27 if you use their affiliate link to purchase the course.
Shopify does charge a transaction fee and a fee for accepting payments with credit cards as well as a monthly hosting fee, so be aware of this as it will increase your monthly costs. For a complete breakdown of their pricing structure and what the fees are, just follow this link.
This is a course that you purchase through Clickbank and they do offer an unconditional 60-day money back guarantee. Just for the product only, the guarantee has nothing to do with Shopify and their fees.
Final Thoughts
So is Ecom Profit Sniper a scam? I will have to say, NO. They do provide you with training to get to you started and set up. But can you make the kind of money that they say? Well, that is more difficult to answer. In my marketing experience I have never come across a program that can guarantee to make $2000 in your very first 20 minutes of being set up, but at the same time if you have the right product, at the right time, with the right target audience, and so on, then yes it could happen but the chances of all the pieces and timing coming together are pretty slim.
Also, Ecom Profit Sniper teaches drop shipping which also takes some cash up front to start as you need to get products, apps, and some services to have a good system set up. So your initial costs will probably be more than just the course fee of $37. Shopify themselves charge you a monthly fee for hosting your website starting at $29 per month so there is that fee already just to start.
And the training itself is not that good, nor does it go into much detail on the intricacies of running an e-commerce website. But for someone with zero experience and who wants to get into e-commerce, it will get you started and it will give you the basic tools to earn an income. So for newbies, it can be a good deal. I just found it too basic to be of use for myself and the fact that I do not make my income from drop shipping but rather affiliate marketing, which you can literally do with zero dollars to start up and get going.
So I would say that for beginners and people looking to get into drop shipping for the first time and want an online store, then Ecom Profit Sniper can get you set up for a small investment on your part.
If you are really interested in starting an online business and want to learn about affiliate marketing or e-commerce then you can read my review of what I believe to be the best platform to start from and learn. It does not cost you anything and there is no credit card required. Just click this link to my #1 recommended platform to start your journey to the world of online business and get your freedom back.
If you have any questions or comments feel free to leave them below and I will be happy to respond to you.