Are you unemployed, disabled, a veteran, retired, student or just someone who hates their job and you want to change your life? Then this article will explain how to start an online business for free. I will explain what you will need and what you will need to do to set up an online business for free.
This will change your life and make you an income from an Online Business. So let's begin, shall we?
Start Up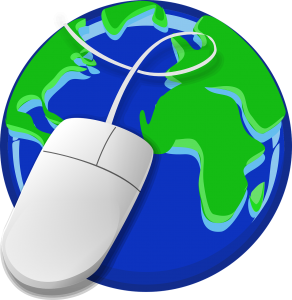 The first thing you will need to do is to think of what business you want to start online. This can be just about anything you can think of, from blogging, eStore, eCommerce, Affiliate Marketing, Freelancing, Consulting, Teaching, Photography, etc. You just need to figure out what you are passionate about and want to share online.
It could be what you are most passionate about, your knowledge, your skills, anything that you believe you have to offer. Even just selling stuff from an online store. There are just an endless amount of opportunities available online.
Choosing Your Domain …
Next, you will need to find somebody to host your website. There are many hosting platforms out there and they all charge different prices. Be careful of the cheap one as they usually do not have things like domain emails or SSL security for your site and will charge extra for these features which will make your domain purchase more expensive.
Now you need to get creative and find a suitable domain name for your domain. Think of this as the same as your house address. This is how people are going to find you, so you will want to make it easy to remember and easy to type in, don't make it to long.
You are going to want a .com domain preferably because Google likes it and it looks more professional and most people expect to see one. If a .com is not available then u can use .org or .net. For local marketing you can have your country's designation as well eg., .ca = Canada or .tw = Taiwan.
The same place you buy your domain from is usually the same place that will host it for you. Website hosting is a service that is provided by a company that provides the infrastructure so that your website can be seen on the internet. They do this by hosting (store), your website on servers.
Building Your Website …
Now we get to some fun, building your website. Most people on the internet today use WordPress to build and create their websites. It is the most used software on the internet today. It is full of features and is easy to use.
Building the framework for your website is really easy in WordPress. It can be done in under 1 minute and u will have a website up and live on the Internet. To see how easy it is you can watch this video on creating a website.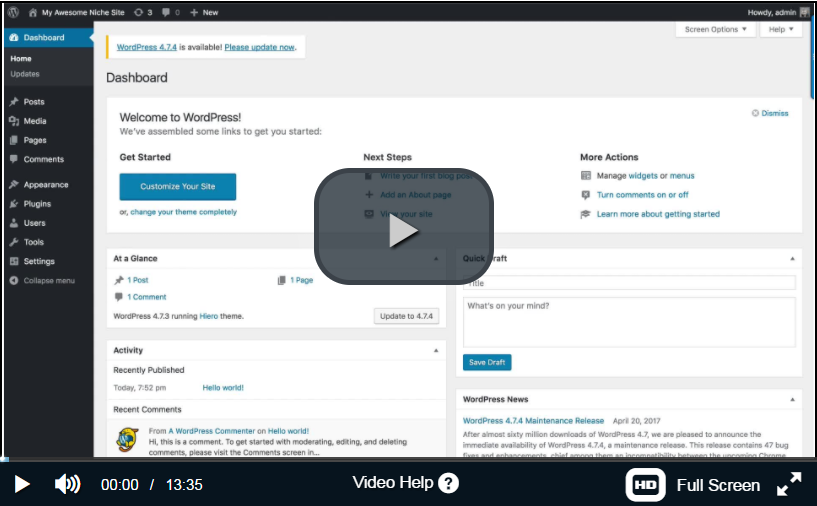 To create your own website right now for free, just enter the name you want for your website in the box below and in less than a minute you too can have your very own real WordPress website.
Adding Content To Your Website …
Once your website has been created then you will need to add all your content to it. You will create pages and posts that will have all the information about the product or service that you are selling.
You will want to create good quality and compelling pages and posts for your website. This is what will attract your readers who will then if they like what you wrote, they will, in turn, buy your product or service that you are offering.
For legal issues, you will need to add a Disclaimer and a Privacy Policy page to your website. To see what that looks like just click on my Disclaimer and Privacy Policy on the right-hand side in the sidebar under Important Pages.
Your content can be about a product or service that you are selling yourself or it can be about products and services of other companies who will when someone buys through your website, pay you a commission on for that sale. It is called Affiliate Marketing and it is a great way to make an income online.
To do Affiliate Marketing all you need to do it to join a company's Affiliate Program, become an Affiliate of theirs and advertise their products or services on your website. For a detailed review of Affiliate Marketing please just click the link.
How To Get Ranked On Page 1 Of Google …
So now that you have a website you need people to see it. To do that you need to get your website to page 1 of Google so that whenever somebody searches for the product or service that you are selling, your website is the one that shows up on page 1 of the search.
To do this you will need to do good SEO (Search Engine Optimization ), tactics and practices. You will need to add metadata and meta titles and have keywords in the correct places as well as SEO your images on your website.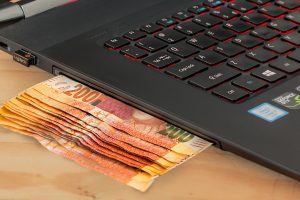 You will need to have good quality content on your site. Quality content is really important and Google looks on it very favorably and will rank you higher in the SERPS.
If you starting to panic because you do not understand what some of this means, do not worry, I will provide you with a solution towards the end of this article. So don't panic, lol. 🙂
To start your own business is going to require some training. There are two ways to do it and that is to find the information yourself or get some training provided. But more about that shortly, I will cover both methods as both are doable.
Promoting Your New Online Business …
Now that you have everything in place you are going to want to promote your business to the online world. You want everyone to know that you are up and running and in business!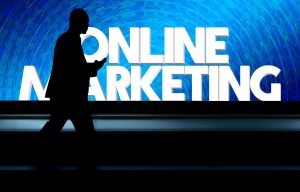 To do this you will use social media, paid for ads, email campaigns, Google ads, Bing ads, PPC(Pay Per Click) campaigns, and a whole bunch more methods that can be used to advertise your business.
The important thing is to get your business out there so that over time people will begin to recognize it and then your business will begin to soar. Just know that this is not a get rich quick scheme. This will take time, dedication and hard work to achieve but it can be done and the cost it very low.
So How Do You Achieve this?…
As I said earlier, there are two ways to reach this goal.
You can try and do it yourself. Most of the information needed can be found for free on the Internet. You can use Google search and join free forums that cater towards the information that you need to learn about. You can look on Youtube and find information there, blog sites and places like Wikipedia. The cost for this is your time and time is what this will take as well, quite some time actually, but it is free.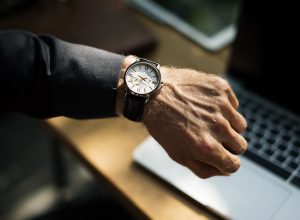 The second method is to find a platform that will cater to all your needs with being able to buy your domain, get hosting with security, provide you with a website, all the necessary tools, all the training that you will require, 24/7 live support for those times when you get stuck and not to mention a community of like-minded people. This method is way faster too as they already know what you need to know to become successful. It is way easier too.
Final Thoughts
So this is how you start an online business for free.  All it will cost you is time to get the framework in place. After that, things will begin to cost a little but by then you will be up and running online already.
So if you would like to know my #1 recommended platform to launch your business from then it is Wealthy Affiliate and you can start for free, no credit card required. They will even train you to create your website and get online, plus give you 2  free websites of your very own of which you get to choose the names.
If you are serious about starting your own business and want to do it for free then sign up with Wealthy Affiliate, get the 2 free websites and hosting and training to get started then do the first step I mentioned above about going and getting the information for free. It will be hard work and it will take time to achieve success but it can be done.
If that is not for you and you would like to be trained in all of the aspects of starting and running your own online business then check out Wealthy Affiliate as they provide everything you will need to be successful. It will also take dedication and hard work to learn everything that you will need to know but it will build a solid foundation for your online business.
I hope that you found this article useful and helpful. If you have any questions or comments, please leave them below and I will be happy to answer them for you. Have a great day! 🙂