This article is about how to make money with videos online, what you will need, and how to sell your videos. Video production can be a lot of fun. You can create a very successful business in the video industry.
What are video and videoblogging?
A video is another means of creating content. Content can be in a video, audio, or written form and many others. It is a means of promoting your passion, idea, training, product, to name a few, on the internet.  A video can be about anything, which makes it a very versatile industry to market in.
Video blogging is a chronicle of something like your life or an event. It is a record of events or your life occurring over time. It is an ongoing journal or diary if you will, just done through video media.
For an in-depth look at video production, then you need to check out this link.
What equipment do you need?
Ok, so let's see what you are going to need.
Camera – Things to look for in a camera would be video format (have the same format as what your software uses), a MIC-in port for an external microphone, storage type (internal HD or SD card), batteries (time to charge, how long it lasts) and physical size (something u are comfortable holding).
Microphone – Even though cameras come with built-in mics, you are going to want to purchase a good external microphone for better audio quality. The reason for is is two fold. Built-in mics tend to pick up the camera holder better than the target and if the video comes out bad, u will still have an awesome audio track for an audio blog.
Lighting – Probably one of the most important areas where u want to spend money. Lighting is critical for a good video quality. If u are using natural light, always make sure that the light is behind or slightly off to the side of the camera. You can use a drop sheet for a backdrop too.
Tripods – Tripods are essential if you are videoing yourself with no one to help. They come in various sizes from table top to free standing.
Software – You are going to need some video editing software to edit and create your final product.
How to create a video
Ok so now that we have got all of our equipment and we have decided on what we are going to video tape, it is time to begin creating your video.
First, you need to decide what kind, or what type of video you are going to make. There three main types and they are;
Styles – These videos are animated, cartoon, stick figure, poster board, etc.
Narrative – This is a video that has a narrative running in the background.
Live – This is a vblog or an event (like a concert) or an occurrence of something interesting happening (live event, natural disaster).
You will also need to choose the style of video you will be creating. Here is a list of some styles that will get you thinking about your video that you want to create.
Vlog
Culture
Interview
Webinar
Event
Presentation
Tutorial
Product Review
Testimonial
Animation
Behind the Scenes
Live Streaming
Classroom
Setting Up.
The first thing to setup is the camera. You want to ensure that it is pointed in the direction of your target and has some room to move depending on the type of video you are making.
Best is the lighting. If you are using studio lights (and I recommend using softbox lights, they are great diffusers), they should be behind you and to your sides. If you are filming outside, try to make sure that the light is behind or slightly off to the one side of you.
Next is to test your audio. Make sure that all your levels are in the green and that there are no issues with your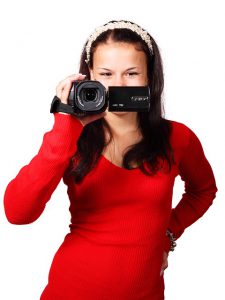 audio recording equipment.
Ok, so now you are ready to record. So, hit the record button and begin recording and have some fun.
Once you are done recording, it is time for the post-production editing. By editing your videos, it will give them a more professional look and thus a better experience for you viewers.
The last step is to get your videos out to the masses. There are various methods depending on what type of video u have created. One of the most popular methods is to post on YouTube. If you are planning on selling your videos you can post a freebie on YouTube to introduce your videos that you have for sale.
Another method is direct marketing. This would take a website that you will need to create that is in line with your videos. You would then market your videos directly to the public.
You could take videos while you are vacationing and then sell them to travel agencies for use with their advertising division.
So there you have it. That will give you some ways to make money with videos online. You will need to create a website for your videos and get some training on producing videos, plus get all your hosting and security.
I can recommend a platform called Wealthy Affiliate. They will provide all the training, live support, website, hosting, security, SSL, and a great community of like-minded people.
I hope you enjoyed this article, if you have any questions or comments, please leave them below and I will be glad to respond to you. Looking forward to hearing from you.