Is Swagbucks legit? Is it worth it? Come and read the Swagbucks review here and find out. I will answer your questions and reveal what Swagbucks is all about and if it is worth pursuing as a side business.
What Is Swagbucks
So what is Swagbucks? Swagbucks is an online site that pays you money for doing the things that you do anyway on the Internet. They will pay you to fill out surveys, watch videos, try products, search the Internet, refer friends, get grocery coupons and play games.
They also have add-ons that will increase how much you can earn on any given product/service that they offer. For example, if you add the Swagbucks browser extension you will receive additional income.
Swagbucks pays out in the form of SB's (swag bucks). You get so many SB's for any given activity that you perform. You can cash out SB's by either gift cards or as cash via PayPal. The exchange rate is $1.00 for every 100 SB's.
They have an app for Android and Apple phones so that you can earn money from anywhere you might be with your phone. Swagbucks is available in USA, UK, Australia, Ireland, Canada, Germany, France, and India
So How Does It Work?
Well first off you need to sign up and join Swagbucks. This is a pretty easy task to accomplish. Once you have joined you will be taken to the member's area where you will be given an opportunity to perform various tasks that will earn you SB's. Their primary feature, that got them started, is to take surveys. The payout is broken down into $25, $50, $100, and $250. You can also donate your earnings to any charitable organization.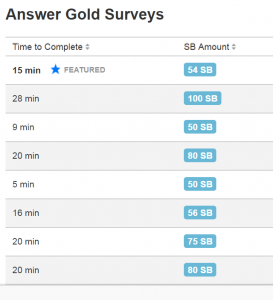 You have to answer a bunch of questions prior to a survey to see if you qualify for the survey you choose to do. It can be a bit frustrating when you spend 15 minutes or so doing the questionnaire only to find that you do not qualify for it. A real pain in the rear actually when it happens like 3 or 4 times in a row. The only consolation that there is, is that Swagbucks will pay you 1 SB for the first 5 surveys that you are disqualified for in a given day.
It is a bad idea to lie about anything in order to get better surveys. If Swagbucks ever detects that you are cheating in any way, all your SB will be retracted and your account deleted and you will lose all your cash, really not worth it don't you think?
You can also get 10% bonus for your days SB's if you reach the daily goal for the amount of SB's earned in one day. Achieve the daily goal for 7 days in a row and receive another bonus on top of the bonuses. You can also refer friends and earn 10% of what they earn for life.
After logging in and going to the Home page you will find the following options to perform to earn SBs.
Shopping – you can receive "cash back" for making purchases from major online stores through Swagbucks. These include Amazon, Walmart, Best Buy, Home Depot, Starbucks and much more.
Watch – watch videos about music, news, entertainment, commercials, travel, and much more.
Answer – here you can get to do their surveys. Swagbucks has a list of surveys where you can earn SB's by answering them.
Discover – install the Swagbucks browser add-on to earn more, faster. Print out grocery coupons, try out products and give reviews and much more.
Searching – use the Swagbucks search engine to earn Sb's by searching the Internet just as you would if you were using Google.
Play – play games online and get paid for your time. Achieve goals in the games and you can earn more Sb's.
Final Thoughts
So after reading the Swagbucks review, what do you think? Swagbucks started in 2005 and has over 14 million members with over 2 million Facebook fans. They have awarded over 195 million dollars in rewards to their members.
So the big question, are they a scam and the answer is NO. They are totally legit and you can make a small income from them. Can you make a lot of money, the answer is no and I personally think that the effort is not worth what you get paid.
Want to try them out the just click this link to Swagbucks.
If you want a way to make a lot of money you should look at my #1 recommended platform and that is Wealthy Affiliate. They teach everything you need to know about Affiliate Marketing. This is a very lucrative business platform to launch from.
They will provide all the training and hosting, websites, security, SSL, unlimited email and one of the best community of like-minded people that you will find on the Internet. So that is all a good thing don't you think?
If you have any comments or questions then please feel free to leave them below and I will more than happy to answer you. Thanks for stopping by and have a great day. 🙂